August 17, 2022
Posted by:

Yoga With Srinatha

Category:

Yoga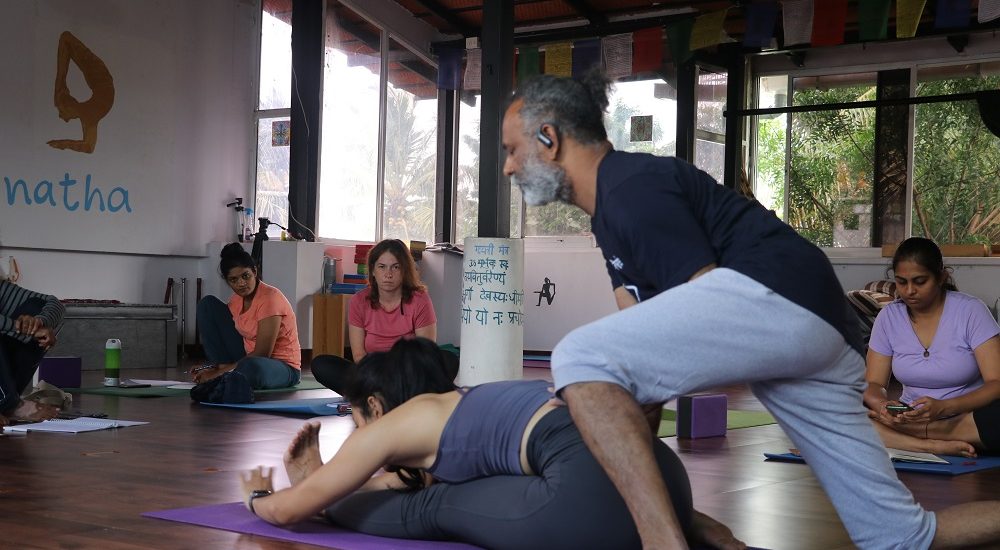 With the rise in consumerism, several mental and physical health issues are also increasing day by day. During spare time, people often turn to activities that can be therapeutic, that can really help them switch off and be nonchalant. And so, turning to the yoga mat is a growing trend that is only going to get larger and bigger in the coming decades. People need yoga and its philosophy if they really aim for an emotionally and physically balanced life. We need a space, a community where we can just let go and be our own, where we can reflect and subside into ourselves, where we can indulge in true self-love. Yoga offers that space and platform to people where they can connect with their being. The science of Yoga is a union of the mind, body, and spirit that forms a whole entity. People need the power of Yoga now and in the coming year more than ever. 
The Role of Yoga Sutras in Creating a World That Is Safe to Dwell In
The Yoga Sutras, as tough as they sound, are actually guides to how to lead a life with more meaning and purpose. A life where you can live in the present and be mindful of everything around you. Don't most of us want this? Here are the core yogic principles that play a major in shaping the life of an individual if they are seeking mental and spiritual upheaval. If followed, these principles can actually save the entire globe from any crime committed by mentally ill people that are becoming too common these days. 
The principle of Ahimsa (non-violence): If we truly apply the principle of ahimsa, which means, we start leading more conscious lives that refrain from hurting anyone, including the gifts of nature then this world would be a much more beautiful place. This is the power of Yoga. 
Practicing Satya, i.e., saying the truth and nothing but the truth. A simple lie can break a life and a simple truth has the power to move the world. Yoga helps imbibe the principle of truthfulness that will drive people to lead more honest lives and live a life that is free from guilt. This is the power of yoga!
The principle of asteya states that stealing is bad. And isn't it? Yoga will teach the world to be loyal. 
The principle of brahmacharya, i,e, not succumbing to lust. When we see something that attracts us towards, we want to give into that temptation. The more attractive the temptation, the harder it is to resist it. So much so that it even diminishes the boundaries of basic etiquettes or humanity for some people. Yoga teaches the world how to gain control over this lust, how not to feed this temptation, how to let it subside and let go. This is the power of yoga. 
And finally, the principle of Aparigraha, where we learn to let go of greed and any attachments. According to the vedas, a human life is divided into five stages, childhood, adulthood, the family stage, the retirement stage and even the stage of renouncement. Many of us get stuck in between the stages and are unable to crawl out of the retirement stage. Yoga helps an individual lead a complete life and transition from one stage to another beautifully. This is why Yoga is going to rule the world coz this is something which no other body science can teach us or guide us to. This is the power of Yoga.
Yoga Styles That Are Classics & Are Going To Remain On Top Of The Line
There are other yoga styles as well which people will continue to pick and choose based on what they need and what their bodies are more aligned with. However, these particular styles are here to stay and continue to rule the minds and bodies of aspiring as well as well-practitioner yogis.
Hatha Yoga
The first form of yoga, Hatha Yoga is going to remain in trend, most yoga teachers in India predict so. The reason being, every single style ever developed is a variation of Hatha Yoga. During Hatha series, a yogi guides its body and mind to perform a pose and remain in it. This builds precision, persistence, endurance, and strength, the foundation of Yoga. 
Mysore Ashtanga
People from across the globe come to attend Ashtanga Yoga in Mysore and this is going to remain in trend in the coming years as well. The reason is simple, it is the next most stunning style of yoga, just as traditional, yet its pace is suited to the contemporary yogis and their requirements. No other yoga style can help master Sun Salutations like Mysore Ashtanga does and the kind of grace combined with the breath work it instills in a yogi, is eternal. 
Pranayama Yoga
Pranayama Yoga is the spirit of every form of yoga. Even Hatha Yoga and Ashtanga Yoga work with a variation of Pranayama . Pranayama is the essence of yoga. One can only come into yoga when they use pranayama along with it. Hence, no matter which yoga style aspiring yogis pick or create, Pranayama Yoga is here to stay. 
Yoga is neither a religion of any kind nor is it a cult, it is a science that was invented thousands of years ago for the mental, physical, and spiritual development of society. This treasure trove of wisdom is extraordinary and people are seeing its powers day by day. With time, this fan base, student base, is only going to grow.
We all know that life is full of choices, the only thing is making conscious ones that can affect our lives positively. It has the ultimate power to guide the entire world to it.