50 Hour Aerial Yoga Teacher Training
Discover the joy of weightlessness with aerial yoga
Why completing a 50 hour aerial yoga TTC
You will be able to teach aerial yoga classes professionally. This can open up new career opportunities and allow you to share your love of yoga with others.
It will help you to deepen your own practice by learning a more comprehensive understanding of the poses, techniques, and philosophy of aerial yoga.
You will get a deeper understanding of anatomy, alignment, and sequencing, which can be applied not only to aerial yoga but also to other forms of yoga or movement practices.
You will stay up-to date with the latest trends! Nowadays many yoga studios require their teachers to complete continuing education in order to maintain their certification.
Completing an aerial yoga teacher training certification can also be a transformative experience that helps you to grow and develop as a person, not just as a yoga teacher. It can help you to cultivate greater self-awareness, compassion, and empathy, which can be applied to all areas of your life.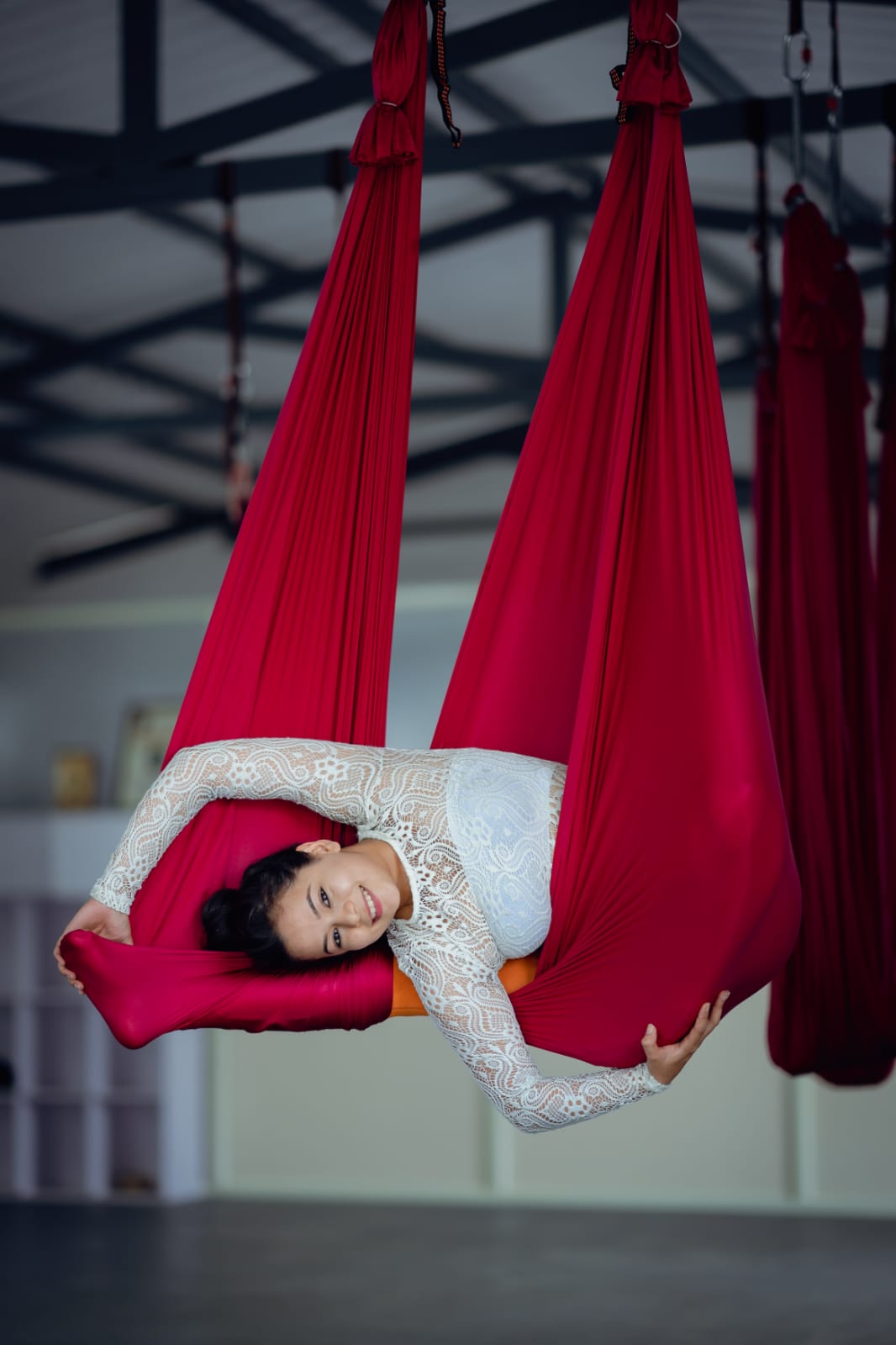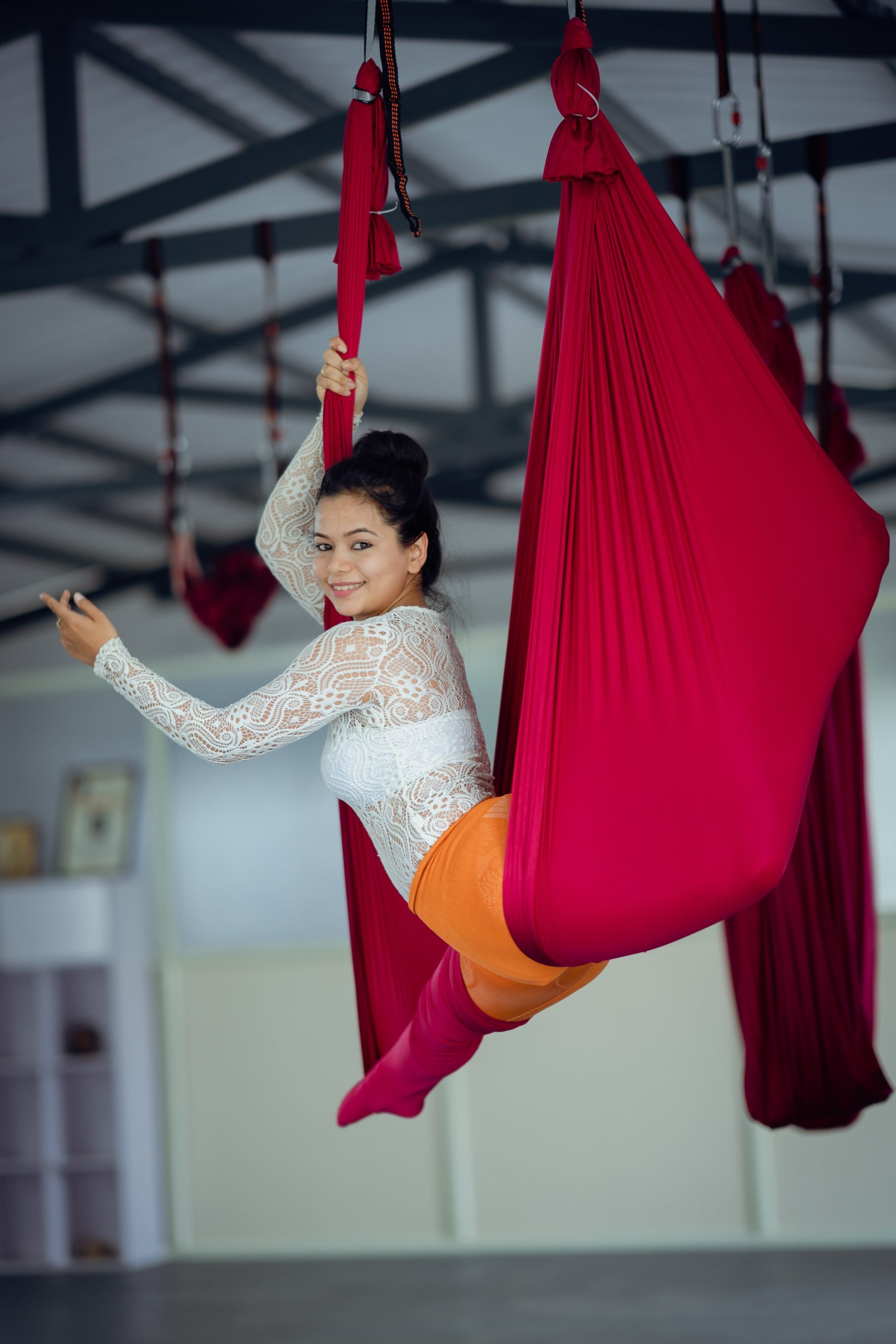 10 days TTC– every first Saturday of each month.
50 hour aerial yoga teacher training course at Yoga With Srinatha, Mysuru (India) is designed to provide students with a comprehensive understanding of the principles and practice of aerial yoga. The course is typically divided into theoretical and practical components, with students expected to complete 50 hours training:
Aerial yoga sequencing
Students will learn how to create effective and safe  aerial yoga sequences, taking into account the needs and abilities of different students.
Aerial yoga adjustments and modifications
Students will learn how to modify aerial yoga poses for different body types and levels of experience, as well as how to provide hands-on adjustments to students during class.
Aerial yoga teaching practice:
Students will have an opportunity to practice teaching aerial yoga to their peers, receiving feedback and guidance from the course instructor.
Anatomy and Physiology:
Students will learn about the basic anatomy of the human body, with a focus on the muscles and joints that are involved in aerial yoga practice.
Teaching Methodology:
Students will learn about the  principles of effective teaching, including how to design and deliver aerial yoga classes
Pranayama
Students will learn the benefits of pranayama and different breathing techniques that can support the aerial yoga practice.
Meditation
Students will learn meditation and relaxation practices that will help deepen their awareness of breath and calm their minds.
Why choosing Yoga with Srinatha, Mysuru, India
Yoga with Srinatha is led by experienced and knowledgeable teachers who have trained in various styles of yoga, including aerial yoga. They offer a comprehensive curriculum that covers everything from the history and philosophy of aerial yoga to advanced aerial poses and sequencing.
The school's facilities are designed to provide a safe and supportive environment for learning aerial yoga. They use high-quality equipment, including aerial hammocks and rigging, and have spacious and well-lit classrooms for practice
The school emphasizes personalized attention, with small class sizes and individualized instruction. This allows teachers to tailor their teaching to each student's needs and abilities, helping them to progress in their practice at their own pace.
Mysuru is known as the yoga capital of India and has a rich history and tradition of yoga. By studying at Yoga with Srinatha in Mysuru, you will have the opportunity to immerse yourself in the culture and learn from experienced teachers who have deep roots in the local yoga community.
6:00- 7:30am aerial yoga

7:45- 8:45am pranayama 

10:00 – 11:00am anatomy 

12:30 – 2:00pm methodology and practice

6:00- 7:00pm meditation.

Note – schedule can be changed depending on the situation.
Aerial Yoga Teacher Training Course FEES - 2023
| DATES | Private Room | Without Accommodation and food | Offer Price Private Room | Offer Price Without Accommodation and food | BOOK NOW |
| --- | --- | --- | --- | --- | --- |
| 6th - 15th May | $450 USD | $250 USD | $400 USD | $200 USD | BOOK NOW |
| 3rd- 12th June | $450 USD | $250 USD | $380 USD | $200 USD | BOOK NOW |
| 1st - 10th July | $450 USD | $250 USD | $380 USD | $200 USD | BOOK NOW |
| 5th - 14th August | $450 USD | $250 USD | $380 USD | $200 USD | BOOK NOW |
| 1 May to 30 May | $450 USD | $250 USD | $380 USD | $200 USD | BOOK NOW |
| 2nd - 11th September | $450 USD | $250 USD | $380 USD | $200 USD | BOOK NOW |
| 7th - 16th October | $450 USD | $250 USD | $380 USD | $200 USD | BOOK NOW |
| 4th - 13th November | $450 USD | $250 USD | $380 USD | $200 USD | BOOK NOW |
| 1 September to 30 September | $450 USD | $250 USD | $380 USD | $200 USD | BOOK NOW |
| 2nd - 11th December | $450 USD | $250 USD | $380 USD | $200 USD | BOOK NOW |