August 8, 2022
Posted by:

Yoga With Srinatha

Categories:

Mysore, Travel, Yoga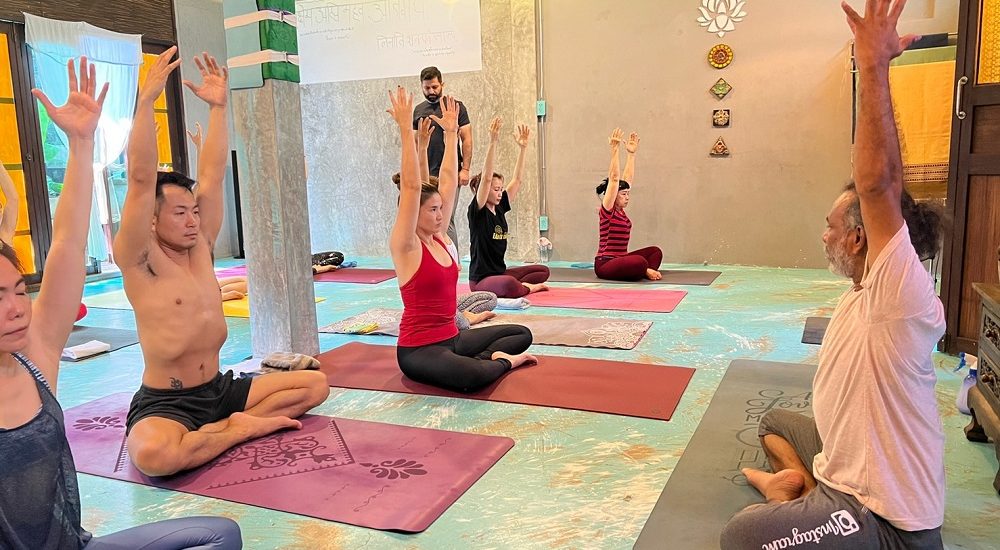 Mysore or Mysuru is a culturally rich city which is dotted with beautiful heritage temples and grand palaces. Besides its famed cultural heritage and the quintessential idlis and masala dosas, Mysore has something more to offer. This royal city is also a destination for rejuvenating your mind and soul through yoga.
Mysore is considered the birthplace of yoga where ace yoga gurus like Sri Pattabhi Jois, Madam Indira Devi and BKS Iyengar learnt this ancient art from the great Krishnamacharya – the father of modern yoga. Mysore is considered a watering hole for learning, training and teaching yoga especially Mysore style Ashtanga Yoga to followers from across the world.
This article will walk you through the nuances of Ashtanga yoga in Mysore besides deliberating on Mysore as a top yoga destination in India.
What Is Mysore-Style Ashtanga Yoga?
Before we go about giving reasons why Mysore is a top destination for yoga, let's first understand what Mysore-style Ashtanga is. Ashtanga yoga in Mysore was developed by Sri K Pattabhi Jois who lived in Mysore and taught yoga for 70 years. This form of yoga teaches yoga to its disciples individually but in a group setting. This yoga form differs from the modern group yoga classes where all students perform the same asanas together in a group. In Mysore style Ashtanga yoga each student practises a series of asanas that increase in intensity and complexity as one goes through them. So, ideally, each posture builds a platform for the subsequent posture and in itself is built on its previous posture. Even a seasoned practitioner also follows the same prescribed series of postures which start from Suryanamaskars or Sun Salutations which provide a foundation for all the subsequent asanas.
It's worthwhile to note that a Mysore class is mostly a silent class except for some instructions. One can hear only the sounds of combined breathing which serve as a backdrop of the class. Such a class can only be conducted by an experienced and skilled teacher who has the ability to give individual attention in a group setting. Moreover, a skilled teacher should have the ability to gauge the idiosyncrasies of every student. The teacher should gain an understanding of how to help the student's progression in this form of yoga. Also, the class requires fewer interruptions so as not to disturb the flow of inner experiences. A typical Mysore style Ashtanga yoga practice includes breathing, body alignment in each posture, Vinyasa and more. The teachers give ample opportunity and space to learn and explore the yogic process sans much outside interference.

Reasons Why Mysore Is A Top Yoga Destination
Mysore offers an idyllic laid-back setting for learning the complex Ashtanga yoga style. Below are a few reasons for learning Ashtanga yoga in Mysore.
Birthplace of Ashtanga Vinyasa Yoga
Yoga initially was patronized by the Wadiyar dynasty which gave a 'royal touch' to this ancient art. Mummadi Krishnaraja Wadiyar enunciated the importance of yoga through the nine-volumed Sritatvanidhi. Another name that is often attached to Mysuru yoga is that of Muchukunte Tirumalai Krishnamacharya who taught yoga to famed yoga personalities namely- Pattabhi Jois and B.K.S Iyengar.
However, Mysore was put on the world map of yoga by Sri Krishna Pattabhi Jois who practiced Ashtanga Vinyasa yoga. This style of yoga even attracted world-famous celebrities like Madonna, Gwyneth Paltrow and Sting. These people became disciples of the highly regarded Guru and learnt Ashtanga yoga under his tutelage.
Teeming with Yoga Schools
Mysore is a major hub for learning and training in yoga. There are several yoga studios in Mysore. Most of these yoga studios are located at 'Gokulam'. Gokulum is a place frequented by many Westerners who stay at such places to learn the ancient art of yoga. At present, there are more than 150 schools that teach yoga to students who flock from nations such as the UK and the US. Furthermore, these yoga schools besides teaching the nuances of Ashtanga yoga also teach concepts of yoga anatomy basics along with following a yoga diet.
Practice with World-Renowned Yoga Gurus
Mysore is where world-renowned yoga practitioners such as B.K.S Iyengar and Sri Pattabhi Jois taught yoga. These gurus taught niche yoga practices like the Ashtanga Sadhana and Prana Vashya Yoga. Such complex yoga practices can only be practised and perfected at the place of their origin which happens to be Mysore. Besides, Ashtanga yoga is a difficult practice that involves a series of yoga asanas. Hence, training only under world-renowned yoga gurus and in reputed yoga shalas can give you the desired results of Ashtanga yoga.
Good Leisure Activities
Yogis in their leisure time can explore the magnificent city of Mysore. Mysore is known for its famed Mysore Palace. This edifice is an architectural masterpiece. Moreover, the monument is lit on Saturday and Sunday evenings and is an awe-inspiring spectacle. Besides, yogis can also climb to Chamundi hills which give a breathtaking view of Mysore city. Also, after completing yoga training, one can head to hill stations like Wayanad and Ooty for some scenic views and relaxation.
Yoga Courses in Mysore
There are different yoga courses which you can take up in Mysore. Most of the schools offer residential programs with duration of one month to three months. However, make sure that you enrol yourself in advance to avoid any rejections or last-minute hassles.
Mysore should be visited in winter between October and March as the weather is pleasant to learn yoga.
Mysore city in itself is an ideal destination for yoga practitioners from around the world. Ashtanga yoga and its various elements are taught comprehensively by ace teachers at yoga schools dotting Mysore's landscape. So, set off on your spiritual sojourn as you learn yoga amidst a culturally rich backdrop of Mysore city.