November 22, 2022
Posted by:

Yoga With Srinatha

Categories:

Mysore, Yoga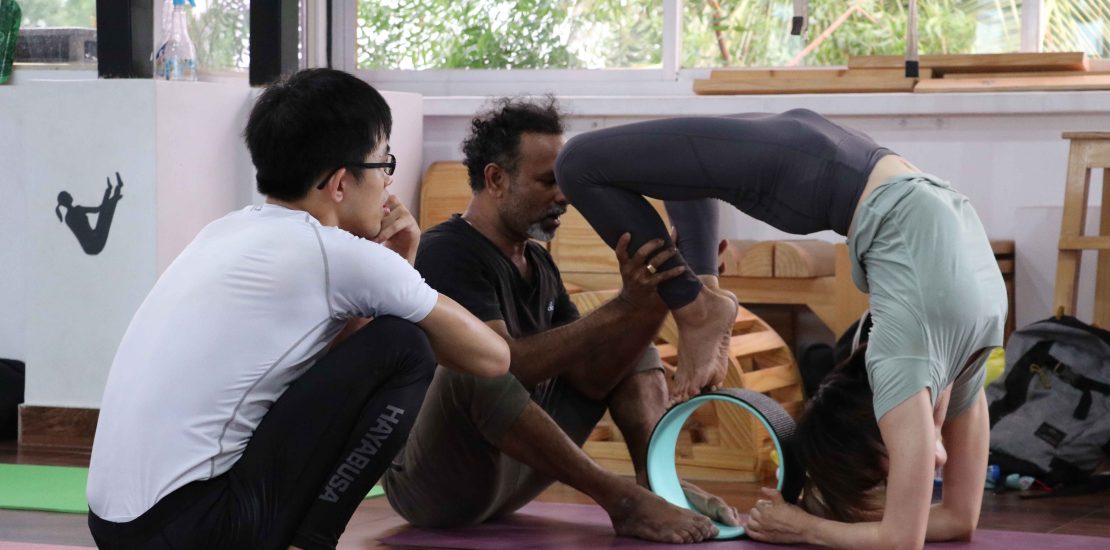 Mysore Ashtanga yoga as the name suggests was conceived in Mysore by ace yoga guru Shri K Pattabhi Jois. He further nurtured and helped in the proliferation of this form of yoga by establishing the Ashtanga Yoga Research Institute in Mysore in the year 1948. Naturally, Mysore became a hub for training in the Mysore Ashtanga yoga style.
If you are an avid yoga practitioner or even a newbie in yoga but want to train in Ashtanga yoga, then it's quite likely that you might uncover some intriguing as well as challenging aspects of this dynamic flow yoga.
However, through this article, we will offer you some invaluable advice that will help you to expect and prepare well for your ensuing Ashtanga yoga training program in Mysore. Let's delve further into the Things To Know and varied aspects of this unique style of yoga.
Prior knowledge and regular practice of yoga are helpful
Ashtanga yoga, unlike the traditional Hatha yoga style, is a relatively challenging practice to ace. This dynamic flow yoga requires some prior knowledge of yoga pertaining to basic poses, breathing rhythms and body alignment. Also, since Suryana namskars or sun salutation exercises form the foundation of a Mysore Ashtanga yoga practice, knowledge and practice of the same can be immensely helpful.
Furthermore, Ashtanga yoga is a fast-paced exercise where the major focus is on how you transition between the poses so as to look like a flowing exercise. Your teacher will be more focused on pose transitions and sequence of poses along with breath rhythm synchronization. 
Mysore Ashtanga yoga is a gruelling exercise
Where Hatha yoga is a gentler and more relaxed style of yoga, on the contrary, Mysore Ashtanga Yoga is somewhat physically gruelling.
Similar in character to a cardio workout, you are most likely to break out in sweat post performing an Ashtanga yoga series.
Besides, the flowing style of this yoga form wherein one posture seemingly merges into another, there is no such time interval for rest. An entire Primary series of Ashtanga yoga usually takes around 90 minutes to complete which is of a  longer duration than most contemporary fitness classes.
However, one should also keep in mind that although a physically demanding exercise, Mysore Ashtanga yoga practice is quite versatile and hence can be adapted to all levels of followers.  Posture modifications for beginners and practitioners with injuries can be easily introduced as part of Mysore Ashtanga yoga practice.
Dedicated time and effort are required to ace Mysore Ashtanga yoga
As already mentioned in the above sections, Ashtanga yoga is a relatively challenging practice and it takes years to simply perfect the Primary series. In totality, Ashtanga yoga comprises one Primary series, one Intermediate series and 4 advanced series. Hence, graduating from one series to another requires consistent practice and patience. So, if you are looking for a quick-fix solution through learning Ashtanga yoga, then we suggest you revise your schedule accordingly so as to accommodate dedicated hours towards this age-old practice.
In fact, it would serve you well if you travel to India and enrol in an Ashtanga Yoga School Mysore to imbibe authentic yogic knowledge with single-minded devotion. 
Ashtanga yoga practice is in tandem with the moon days
This may intrigue many of you but  Mysore Ashtanga yoga is not practised on the new moon and full moon days.
Considered a rest period or an off day, pupils especially those undergoing yoga teacher training course programs in Ashtanga yoga such as the 200-Hour Ashtanga Yoga Mysore are told to rest or indulge in other leisure activities.
Built upon Hindu beliefs that honor nature rhythms and where religious Hindu folks abstain from undertaking anything new or auspicious things on moon days, Ashtanga yoga also follows a similar belief system.
Maybe, being privy to this information beforehand can help you plan a few leisure activities in advance or schedule an excursion tour of nearby areas. Alternatively, you can also simply choose to relax so as to give your tired body and achy muscles a much-needed break.
Mysore Ashtanga yoga follows two forms of tutoring
Ashtanga yoga follows two styles of teaching notably a 'led class' and a 'Mysore-style class. As with most yoga and fitness classes, a led class is presided over by a yoga instructor who guides an Ashtanga yoga session by calling out each pose and each breath in the Sanskrit language medium.
However, in a Mysore Ashtanga yoga class, the yoga teacher quietly observes the class. Here the students practice the same sequence of postures in a group setting, albeit in different rhythms. So, although each student is performing similar poses in a group setting, yet every student is practicing postures at their own rhythm and pace. 
The same sequence is followed every single time
What's interesting about Mysore Ashtanga yoga is that it's the same sequence that is followed every single time. Now, you might wonder whether doing the same sequence of poses every time might get boring.
However, Ashtanga yoga is a dynamic exercise where your body and emotions feel and behave variedly every single time. Your mood and feelings may fluctuate from time to time.
Besides, the weather might differ on an almost daily basis and more importantly in a group Ashtanga yoga practice, the individual performing asanas next to you wouldn't be the same always. All these factors although seemingly subtle in nature, have a huge bearing on your yoga practice making it different every single time. Your physical being may behave and move in the same way but how you feel and think about the same varies every single day and that's what makes Mysore Ashtanga yoga a notably immersive practice.
Look forward to exploring the royal city of Mysore!
Mysore is a laid-back royal city in the Indian state of Karnataka. Besides being known as a hub for Ashtanga yoga training, Mysore is known for its palatial Mysore Palace which is an opulent architectural marvel. Located about 3 hour's drive from Bangalore, Mysore city comes alive, especially during the 10-day-long Dussehra festival. Besides, during your leisure hours, you can also visit the landmark Hindu temple, Sri Chamundeshwari which has some scenic views. Also, the Sri Chamarajendra zoological gardens are an expansive area housing exotic species of wildlife. So folks, all in all, Mysore is a perfect destination for planning your yoga sojourn in India.
Your Takeaway!
The 6 seried Mysore Ashtanga yoga is a lifelong practice developed upon mastering a set sequence of poses. Graduating from one series of sequences to another takes consistency and a lifelong commitment on part of the students as well as their guiding yoga teachers. Faith in your own abilities and enduring patience are hallmarks of acing this dynamic flow yoga.
The elements discussed in this post can help you to know what to expect during your Ashtanga yoga course program and accordingly take decisive steps towards planning your own Ashtanga yoga training.