January 28, 2023
Posted by:

Yoga With Srinatha

Categories:

Mysore, Yoga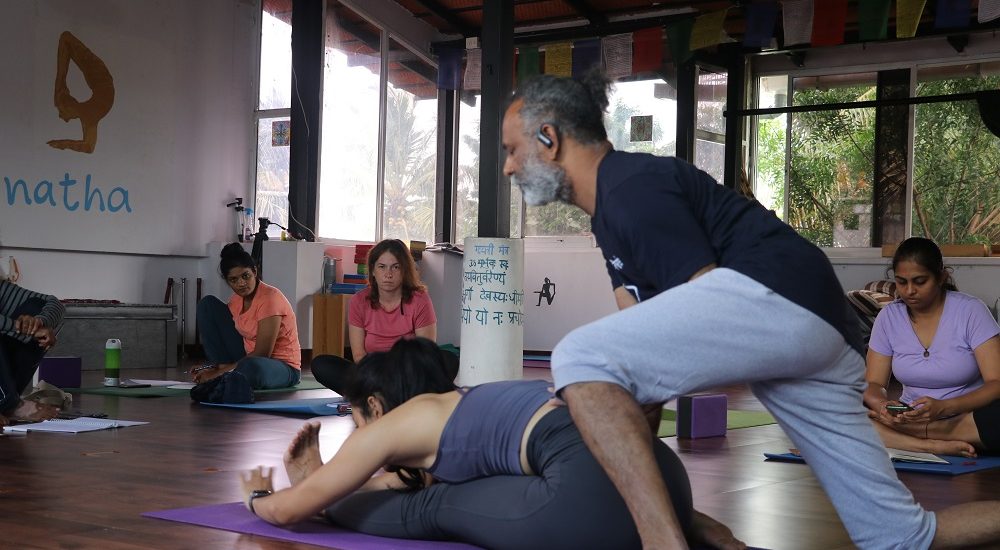 Ashtanga yoga Mysore is a specialized, structured form of Vinyasa flow yoga that is preached and practiced in India. Conceived and nurtured by K.Pattabhi Jois, the Mysore Ashtanga yoga practice got impetus with the establishment of the Ashtanga Yoga Research Institute in Mysore, India in 1948.
This article will talk about Mysore Ashtanga yoga in brief and then delve into the various reasons to practice this unique form of yoga in India. Let's take a look.
What is Mysore-style Ashtanga yoga?
The practice of Ashtanga yoga Mysore was built by Sri K Pattabhi Jois, a follower of T. Krishnamacharya who stayed in Mysore and preached yogic sciences for 70 years. This style of yoga is quite individualistic and differs from the contemporary group yoga classes in vogue in today's times.
An Ashtanga yoga series comprises one Primary series, one Intermediate series and 4 advanced series. However, most schools across India teach the Primary series of Ashtanga yoga and it takes years of practice to really graduate from one series to the other.
In Mysore-style Ashtanga yoga, every student is expected to practice a series of asanas that gradually build up in complexity and intensity as one progresses through them. Also, every pose creates some kind of groundwork for the subsequent poses and in itself evolved from previous postures. Moreover, it's worthwhile to note that everyone including even seasoned practitioners prescribe to the same mandated series of postures. These rounds of series usually begin with Suryanamaskars or Sun Salutations which are actually considered the crux of any Ashtanga yoga practice.
For those unversed, a Mysore class is usually a silent class, albeit for some guided instructions. In a typical Ashtanga yoga Mysore class, you might be able to listen to only the sounds of combined breathing that form the backdrop of the class. Ashtanga yoga classes are usually presided over by an experienced and ace yoga teacher who is capable of giving individual attention in a group setting. Furthermore, a seasoned yoga teacher should have the innate capability of identifying the idiosyncrasies of every student and guiding them accordingly. Moreover, an effective session of an Ashtanga yoga class is sans distractions and interruptions so as to support the seamless flow of inner experiences. A typical Mysore-style Ashtanga yoga practice inculcates breathing, body alignment in every pose, Vinyasa and more. The teachers give ample opportunity and space to learn and explore the yogic process without much outside interference.
Reasons to practice Mysore Ashtanga Yoga in India
India is the birthplace of yoga
Yoga is an ancient Indian philosophy that has its roots dating back several millennia. Many age-old customs, traditions and cultural aspects of India display yoga in some form or the other. Sanskrit, the original language of yoga was conceived in India. Yoga is actually deeply embedded in the very fabric of the Indian culture and living a sattvic and yogic way of life is what is preached at the many yoga schools and yoga ashrams across India. Ashtanga yoga is an evolved form of yoga that was built upon the principles of Vinyasa flow yoga. Since yoga originated in India, this ancient practice evolved into many different styles since the inception of the erstwhile Raja yoga. So, folks, if you want to learn authentic Ashtanga yoga practice, then travel to India for a true yogic experience.
Ashtanga yoga was conceived in Mysore, India
Yoga initially was patronized by the Wadiyar dynasty which gave a 'royal touch to this ancient art. However, as already stated in the above sections, Ashtanga yoga was conceived and fostered by K. Pattabhi Jois who later founded the Ashtanga Yoga Research Institute in Mysore in the year 1948. The laid-back royal city of Mysore soon began to be known as the watering hole for learning Ashtanga yoga. This style of yoga even attracted world-famous celebrities like Madonna, Gwyneth Paltrow and Sting who became ardent followers of the highly regarded Guru and learnt Ashtanga yoga under his guidance.
India and especially Mysore abounds in yoga schools teaching the Ashtanga yoga Mysore style
Mysore being the birthplace of Ashtanga yoga has become a watering hole for training in Ashtanga yoga. There are several Ashtanga yoga schools in Mysore and most of these yoga schools can be found at 'Gokulam', a yoga and spiritual hub frequented by many foreigners. These Westerners travel to Mysore, India and lodge at these schools in Gokulam to undergo yoga teacher training in Ashtanga yoga such as the 200-hour Ashtanga yoga Mysore program. Currently, you will find more than 150 schools in Mysore that teach yoga to students from a plethora of nationalities.
Also, due to certain unavoidable constraints, if you are unable to travel to Mysore to learn Ashtanga yoga Mysore, there are many destinations across India such as Rishikesh, Kerala, Goa and even Dharamshala that teach traditional Ashtanga yoga Mysore practice.
Learn Ashtanga yoga under the guidance of world-renowned yoga gurus
Since yoga and later Ashtanga yoga originated in India, it also gave rise to many renowned yoga gurus who conceived and honed various styles and forms of yoga. Yoga gurus from India such as Swami Sivananda, T.Krishnamacharya and later on B.K.S Iyengar and
Sri Pattabhi Jois became famous for teaching yoga worldwide. Yoga gurus especially B.K.S Iyengar and Sri Pattabhi Jois taught niche yoga practices like the Ashtanga Sadhana and Prana Vashya Yoga. Such intricate yogic techniques can only be practiced and perfected at the place of their origin which happens to be India and particularly Mysore. Furthermore, Ashtanga yoga is a relatively challenging style of yoga to ace. The Ashtanga yoga Mysore style includes a series of flowing yoga poses that should be in tandem with breathing. Hence, training only under world-renowned yoga gurus and in reputed yoga shalas in Mysore or other destinations in India can give you the desired results of Ashtanga yoga.
Your takeaway!
Ashtanga yoga Mysore as the name suggests originated in Mysore, India. Naturally, learning the finer nuances of this flowing yoga technique at the place of its origin makes good sense. So, folks, if you are keen to learn Ashtanga yoga in Mysore, then travel to India for a truly authentic yogic experience.