August 22, 2022
Posted by:

Yoga With Srinatha

Categories:

Mysore, Travel, Yoga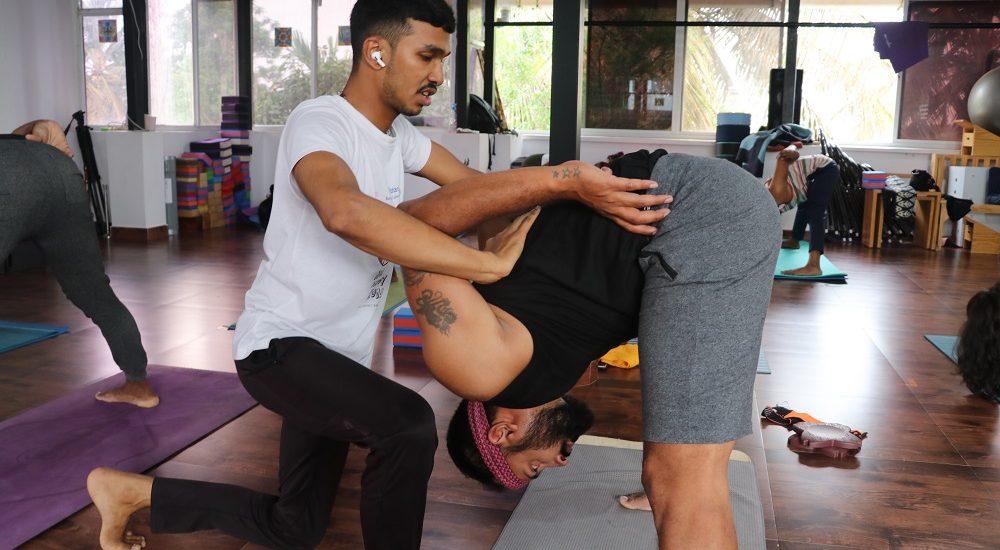 Yoga is one of the best ways to deal with mental and physical issues as it involves various kinds of asanas and activities that are extremely helpful in keeping our mind and body in harmony. It comprises several practices and disciplines including mediation, breathing exercises, and more. As yoga is all about building strength and bringing relaxation, it is practiced across the globe by millions today. There are various styles of yoga and each one of them has its own significance and characteristics.
Some are known to improve flexibility and encourage physical strength and some are renowned to reduce stress and anxiety. One of these major styles of Yoga is the Ashtanga yoga Mysore, which is considered one of the toughest styles and involves assisted self-practice sessions. Well, what's Ashtanga Yoga Mysore? Let's learn about this unique style, its benefits, and more.
What is Ashtanga Mysore Style?
Ashtanga Mysore style is one of the significant practices in Yoga within the tradition of Ashtanga Vinyasa Yoga and was popularized by K. Pattabhi Jois, who had learned the style from his teacher Tirumalai Krishnamacharya. As it originated in Mysore more than 70 years ago, it is named after the city.
Ashtanga Vinyasa yoga consists of a sequence of complex and tough poses that are linked by smooth transitions called Vinyasa. During the classes, students learn together and practice at their own pace with one-on-one sessions with the teacher. The style majorly focuses on energy and breath and hence, it is often termed as very dynamic and athletic.
What's the Ashtanga Yoga Practice?
Ashtanga is made up of two Sanskrit words, namely Ashta, which means eight, and Anga, which means limb. Hence, the name translates to the union of eight limbs. Ashtanga Yoga is all about amalgamating the eight limbs of yoga and thereby leading a happy and healthy life. These eight limbs include Yamas (ethical rules), Niyamas (virtuous habits), Asanas (postures), Pranayama (breath control), Pratyahara (self-extraction), Dharana (concentration), Dhyana (meditation), and Samadhi (total self-collectedness).
It is taught through a six series of postures beginning with the five repetitions of sun salutations A and B. Later on, the practice includes standing poses and then seated poses. In the end, the teacher takes you through the advanced series. The practice has a fixed order of asanas and hence, is learned in sequential order.
Five Principles of Ashtanga Yoga Mysore
Ashtanga Yoga is based on a set of principles, which are of utmost importance if you look forward to mastering the style. Let's take a look at them:
Ujjayi Pranayama
It is one of the most famous forms of breath control in Yoga and is used throughout the session of Ashtanga Yoga Mysore Style. The technique involves breathing through your nose while tightening your throat to make a snoring sound. Its major purpose is to enhance psychic sensitivity and tranquilize the nervous system.
Drishti
Drishti translates to gaze and is all about locking your inner vision and developing concentration by focusing on a specific object. It is usually practiced during yoga asanas and meditation. It is one of the key principles to embrace while learning the Mysore style.
Vinyasa
Vinyasa is defined as the linking of breath with movement. It is practiced during the transitions of yoga asanas for a smooth flow.
Bandha
Bandha is a yoga practice that is all about locking the specific area of the body through postures to regulate the flow of energy and form stability. It is usually done to gain control over the energies in your body.
Daily Practice
Of course, a fixed routine is a must whether you are learning 200 hour Ashtanga Yoga Mysore or any other style. Without maintaining a schedule, it is not possible to master it. As per the regulation, one needs to dedicate six days per week to classes.
Reasons to Join Ashtanga Mysore Style Yoga Classes
There are dozens of reasons to enroll in an Ashtanga Yoga School Mysore.
Mysore is a land of culture and also the place where Ashtanga Yoga flourished like never before. Hence, it is home to some of the world's best teachers and practitioners.
Ashtanga Yoga Mysore lets you learn yoga at your own pace.
You are guided by professional teachers in one-to-one sessions. Hence, the teacher can focus on you and your practice as he/she will know you inside out.
Though the postures are complex and tough to learn, you just need to memorize the sequence to start your journey.
The practice doesn't involve any kind of music or talking and hence, you are able to learn it in a peaceful and quiet atmosphere.
Ashtanga Yoga Mysore style will help you grow mentally as well as physically.
Benefits of Ashtanga Mysore Style Yoga
The daily practice of Ashtanga Yoga Mysore style provides you with a number of benefits.
It helps in your physical as well as mental growth.
Enhances your fitness level by improving flexibility and strength.
Provides you with a positive attitude and calms your mind and body.
Makes you independent, mindful, and youthful
Improves your sleep cycle and cures several disorders and diseases, such as arthritis and more.
Creates balance in life and soothes your mind and body.
Control body weight, cholesterol levels, and blood pressure.
Who all Can do Mysore Style Yoga?
Ashtanga Yoga Mysore Style is for everyone who looks forward to leading a fit and healthy life. Whether you are a beginner or an expert, Ashtanga Yoga always has something to teach you. Also, if you desire to have the above-mentioned benefits in your life, then you must go for it.