October 29, 2022
Posted by:

Yoga With Srinatha

Category:

Yoga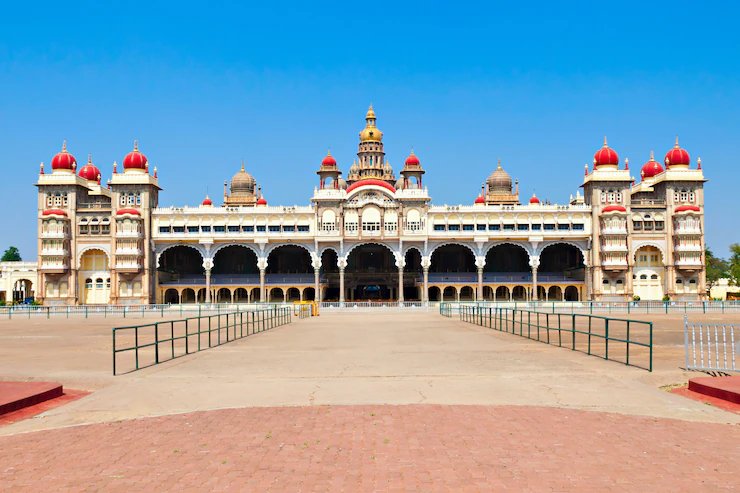 Now that New Year and Christmas festivities are around the corner, Mysore is set to illuminate in all vibrant hues. Famous amongst tourists as the cultural capital of Karnataka, Mysore is a culturally-rich city that served as the administration center for the Mysore Kingdom back in the day. However, it is a tourist place today that draws visitors from around the world on account of its impeccable architecture and historical legends. Roam around in its streets and explore its age-old corners.
As it is nestled at the foothills of Chamundi Hills, it hosts a variety of natural beauties too. The city is doused in lively colours of Indian traditions and is also recognised for being a popular yoga center and Ayurveda retreat in the world. Hence, you can join yoga classes like Ashtanga Yoga Mysore and learn about its practices.
With this article, we are going to share an insight into the best things to do in Mysore on New Year and Christmas.
Witness the Grandeur of the Mysore Palace
There is no reason you visit Mysore and not witness the grandness of the Mysore Palace for it is one of the most visited places in India after the Taj Mahal. During the times of Christmas and New Year, watch it lit up with more than a hundred thousand electric bulbs. The sound and light show here is often the talk of the town.
It is also known as Amba Vilas Palace and has been the official seat of the Kingdom of Mysore. The intricate designs all over the palace and the structural formation allure tourists from every corner of the world. From roof artwork to courtyard designs, everything deserves to be noted here. So, visit it and explore the grandeur it holds. Mysore Palace has a history of more than 100 years.
Visit St. Philomena's Cathedral
One of the tallest churches in Asia and the biggest in the city calls for exploration! St. Philomena's Cathedral reflects the Neo-Gothic style of architecture and is a wonderful treat to your eyes. Explore its beautifully embellished walls and take note of its ornate interiors.
During the Christmas festival, the church attracts a large audience from around the country and beyond. Partake in mass prayers on Christmas Eve and listen to melodious carols. Mingle with people from different cultures and watch the city come alive.
Soothe Yourself at Karanji Lake
Mysore isn't devoid of natural beauties and looking at Karanji Lake shimmering at the bottom of Chamundi Hills proves that. It is one of the most popular picnic spots in Mysore where you would often find children and families celebrating great times together.
The Butterfly Park within the lake compound is quite an attraction to look forward to. You can sport peacock dancing, do lake boating, stroll green paths, watch swans swimming, and more. The lake compound also houses the biggest walk-through aviary in the country.
Go Temple-hopping
Mysore, being a cultural city, is home to numerous beautiful temples and ancient sacred places where you can soak in spirituality. Shri Chamundeshwari Temple is the most popular of them and witnesses a huge influx of Hindu devotees and tourists.
Some of these temples are known for their historical significance, numerous for their architectural designs, and others for religious prominence. Bow down to the almighty god and explore the legends these temples boast of. The list includes Gayatri Temple, Someswara Temple, Bhuvaneshwari Temple, ISKCON Temple, and Bylakuppe Buddhist Golden Temple.
Walk the Lawns of Brindavan Gardens
Spread across 60 acres and flourishing on the outskirts of Mysore about 12 km from the city center, Brindavan Gardens makes for an ideal place to spend evenings and mornings conversing with nature. Spot a variety of flowers and take beautiful pictures. The garden fountains are equally mesmerizing for they paint a rich spectacle of vivid colours.
Absorb its brilliance as you stroll lush green lawns, walk under shaded passageways, and explore topiary works. On Christmas Eve and New Year night, watch the garden resemble a piece of heaven.
Explore Cafe Culture
Well, not quite something every tourist does, but certainly a must-try for those who love exploring cultures. The cafe culture in Mysore might not be vigorous, however, it keeps the city abuzz with young crowds and explorers. Plan a tour this Christmas or New Year and watch the entire city awake all day and night. Explore beautiful cafes and savour different flavours. Mysore offers you new experiences every day. From Roy's Cafe to Cafe Unplugged, watch all social hubs turn into intellectual centers as the sun sets.
Take Yoga Classes
Mysore is also known around the world as one of the most important yoga destinations and hence, it houses numerous yoga centers and studios where you can learn to live a yogic life from the best of gurus and teachers.
The Ashtanga Yoga Mysore is reputed for its dynamic and athletic nature and is perfect to maintain mental and physical strength in life. Enroll in different yoga programs and learn about yoga postures, yoga philosophy, and a lot more. You can sign up for the 200 hour Ashtanga yoga course Mysore at the best yoga school in Mysore to excel in it.
Visit Mysore Zoo with Kids
If you are visiting Mysore this Christmas or New Year with your kids, then you must keep Mysore Zoo at the top of the list. It is one of the city's famous attractions and is a perfect place to keep your children engaged. Let them have a great time in a natural setting as they spot a variety of flora and fauna on their own.
Mysore Zoo was opened in the year 1892 and is spread across an area of about 157 acres. Here, you get to spot giraffes, Bengal tigers, birds, reptiles, and other mammals.
So, without any further ado, plan your excursion today! Make the most of these festivals and occasions and have a great time creating memories.