November 17, 2022
Posted by:

Yoga With Srinatha

Category:

Yoga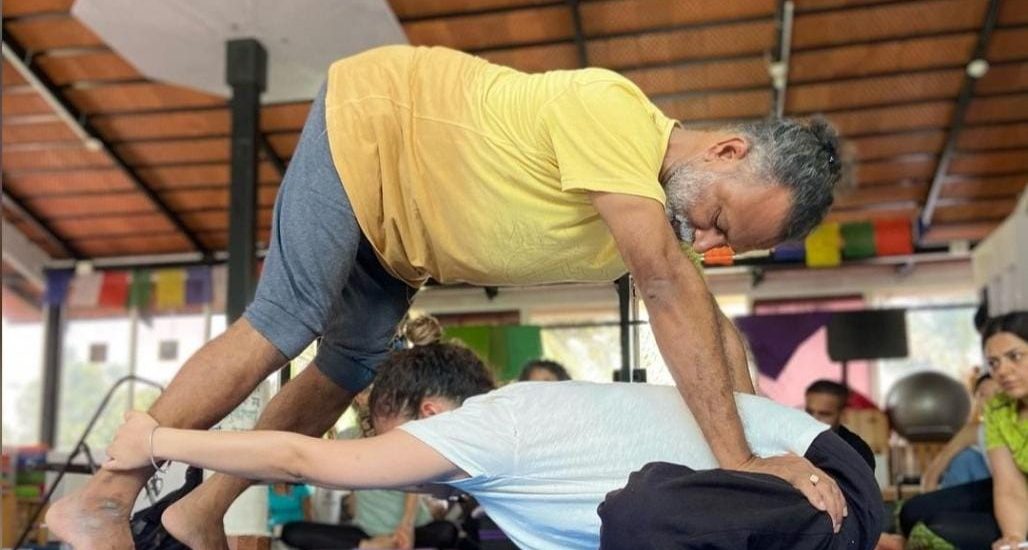 Today, yoga has reached every corner of the world and has been accepted widely by different communities and nationalities. Hence, the number of yoga schools has increased exponentially in the last couple of decades. Yoga is of several types and Ashtanga Yoga and Hatha Yoga are some of their most popular and practised forms. Though these yoga styles have different characteristics and are exercised on account of distinct reasons, they aim at uniting the mind and body with the soul and creating a balance in an individual's life.
Are you also planning to start your yoga journey? Well, Ashtanga Yoga and Hatha Yoga would surely provide you with innumerable benefits. So, let's learn in detail about these two popular styles of yoga, their benefits, different asanas, and more.
Ashtanga Yoga
Ashtanga Yoga is a significant part of Indian traditional yoga and is mentioned in the age-old text of Yoga Sutras written by Patanjali, a renowned philosopher and author from ancient India. It is an eight-limbed yoga that emphasises the use of breath during the transition between different poses. It is kind of dynamic and energetic in nature as you need to keep changing poses within a certain period of time. The current style of teaching is Ashtanga Vinyasa Yoga which was popularised by K. Pattabhi Jois, a 20th-century yoga guru, and is extremely popular in Mysore. That's why this yoga has a branch named Mysore Ashtanga Yoga, which is quite famous amongst yoga enthusiasts.
Poses In Ashtanga Yoga
There is a sequence or series of poses in a certain manner while performing Ashtanga Yoga. This yoga starts with sun salutations and then you move to standing asanas, seated asanas, and eventually to inversions and backbends. It also includes intense breathwork and vinyasa flow (smooth movement of the body parts) between different asanas. Though there are more than 70 poses in Ashtanga Yoga that usually take several hours to complete, the major poses in Ashtanga Yoga include:
Mountain Pose Namaste
Sun Salutation A
Sun Salutation B
Hand to Big Toe Pose
Uttanasana Pose
Utthita Trikonasana Pose (Extended Triangle Pose)
Parivrtta Trikonasana Pose (Revolved Triangle Pose)
Intense Side Stretch
Wide-legged Forward Fold Pose
You can visit an Ashtanga yoga school Mysore where you can learn in detail about this yoga style by enrolling in 300 hour or 200 hour Ashtanga yoga Mysore classes. 
Benefits of Ashtanga Yoga
The Major benefits of Ashtanga Yoga include:
Improves the health conditions of your mind and body
When performed wisely, Ashtanga Yoga strengthens muscles and provides stability to the body
Reduces back pain and other chronic issues
Calms down your nervous system providing you with a sense of relief
Increases your fitness level and improves concentration and self-confidence
Promotes healthy eating and improves balance in life
Hatha Yoga
Hatha Yoga has different characteristics when compared to Ashtanga Yoga. Hatha Yoga basically deals with physical techniques and doesn't require any transitional activities to indulge in. It is a sevenfold yoga that emphasises on practising physical postures and is perfect for beginners to start their yoga journey. Here, you need not follow a certain sequence as you are free to spend time on a single pose unless you get the hang of it. Though the earliest mention of Hatha Yoga dates back to the 8th century, it is believed to be as old as yoga. Today, Hatha Yoga forms an important part of traditional Indian yoga and is practised by millions of enthusiasts around the world.
Significant Poses In Hatha Yoga
Hatha Yoga is performed without any sequence or series. You can just do a single pose and work on it to strengthen your mind and body. The poses here are not connected with any kind of transitional breathwork or other body movements. There are more than 80 poses in Hatha Yoga including seated and unseated. However, the significant ones include:
Balasana (Child's Pose)
Janu Sirsasana (Head-to-knee pose)
Ardha Matsyendrasana (Seated Twist)
Utkata Konasana (Goddess Pose)
Trikonasana (Triangle Pose)
Vrksasana (Tree Pose)
Malasana (Squat Pose)
Supta Baddha Konasana (Reclined Butterfly Pose)
Paschimottanasana (Seated Forward Bend)
Savasana (Corpse Pose)
Benefits of Hatha Yoga
The major benefits of Hatha Yoga include:
Improves flexibility and provides strength to the body
Stimulates cell repair and regeneration
Improves the flow of blood in the body and provides strength to the heart and lungs
Sharpens the focus and boosts concentration
Brings creativity and clarity
Helps in balancing emotions and calms down the senses
Improves metabolism and brings balance to the nervous system
Easy to learn and perfect for freshers
Helps in stretching the spine, shoulders, spleen, and liver
Summary of Major Differences Between Ashtanga Yoga and Hatha Yoga
Hatha Yoga isn't as dynamic as Ashtanga Yoga as the latter involves breathwork and smooth body movements between poses while the former doesn't. Hatha Yoga is perfect for beginners while Ashtanga Yoga is usually practised by those who have already started their yoga journey and have a good level of strength and flexibility. Ashtanga Yoga is performed in a set series of yoga poses, while Hatha Yoga poses can be practised one at a time. Hatha Yoga is slower, less structured, and easier than Ashtanga Yoga. Also, you don't need to use yoga props to do Ashtanga Yoga.
Which One Should You Choose?
Well, there is nothing right or wrong when choosing a yoga style for yourself. It all depends upon what kind of benefits you expect from yoga styles. Also, it depends upon the strength and flexibility level of your body. If you are a beginner, it is always better to start with Hatha Yoga, however, if you wish to deepen your yoga poses, it is recommended to go with Ashtanga Yoga.
You can also choose Hatha yoga if you are looking forward to losing weight and providing shape to your body. Regardless, make sure to connect with an experienced guru at a yoga school in Mysore, Rishikesh, or any other yoga destination before you jump into the yoga world.