October 7, 2022
Posted by:

Yoga With Srinatha

Category:

Yoga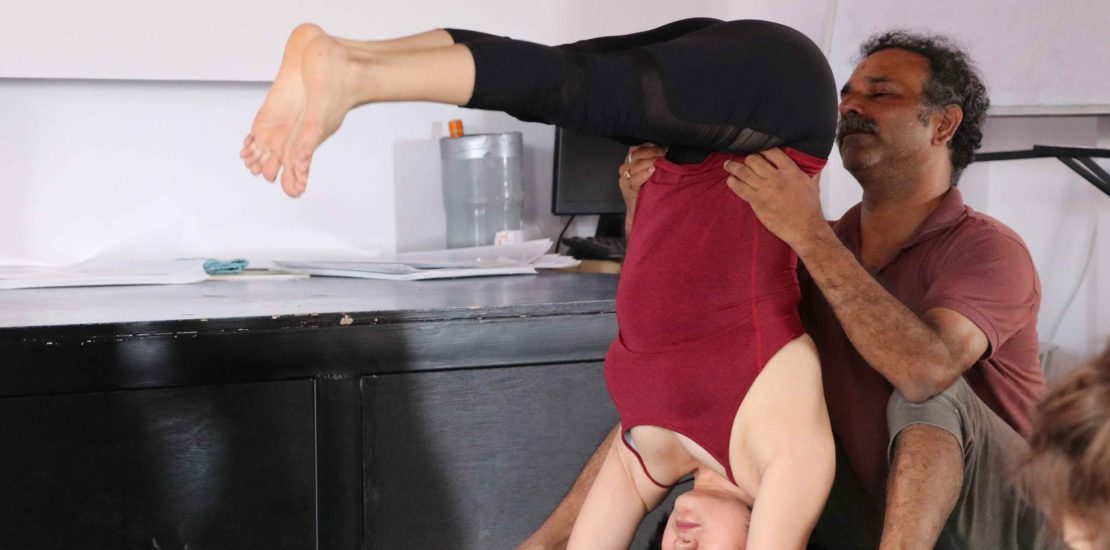 Ashtanga yoga is a popular style of yoga practiced worldwide. This dynamic flow yoga was popularized by Shri K Pattabhi Jois who founded the Ashtanga Yoga Research Institute in Mysore. Also referred to as Raja Yoga, this Mysore-style;e yoga is believed to he;p achieve a state of detachment wherein one can resist the urge of the five senses. As with any other style, you can choose to complete your yoga teacher training in Ashtanga yoga. It takes a lot of dedication to training as an Ashtanga yoga teacher. There are in all six series of sequences that need to be mastered with the asanas increasingly becoming more challenging as the series progress. It takes years of practice to really progress from one series to the next.This blog will enlighten you about some fascinating aspects and facts about Ashtanga yoga teacher training which you never knew. Let's discuss these facts in brief below.
1. Linking Movements With The Complementary Breath Cycle
Ashtanga Vinyasa yoga teacher training lays considerable emphasis on seeking relaxation even while you are performing challenging asanas. The priority is to focus on breath and Drishti or meditative focal points for the purpose of resting of eyes in each posture. Within asana practice there is a blending of asanas with the breath cycle. However, after having achieved a certain stage of proficiency, one may find that the asanas and breathing combine as opposite forces. However, these changes become subtle and imperceptible as you progress in Ashtanga yoga practice as part of your yoga teacher training.
2. A Seasoned Ashtanga Yoga Teacher Can Modify The Asanas Sequences In The Series
Ashtanga yoga can be modified as per the practitioner's strengths and weaknesses. Although there is a traditional sequence series in Ashtanga yoga practice, Ashtanga yoga teacher training also imbibes an awareness of modifying the sequence of asanas as per the individual's needs or capabilities. For instance, a seasoned Ashtanga yoga teacher can ask his students to add asanas from the second series to the first series. Also, these posture modifications should help in increasing the body awareness that might help you elsewhere in the practice. Hence, Ashtanga yoga teacher training involves an evolved perspective to become a trustworthy yoga teacher who has the knowledge about not only the therapeutic value of each asana but is also able to modify these as per the individual needs of the students.
3. The Ashtanga Yoga Teacher Training Involves Rigorous Daily  Practice And Regular Teaching
Unlike other forms of yoga, the Ashtanga yoga style is quite intricate. You might be surprised to know that to fully get certified especially through the Jois family of Ashtanga Yoga Research Institute, one of the best yoga schools in Mysore, it takes around 5 years of dedicated practice involving daily yoga sessions and regular teaching to become a proficient teacher 
4. Ashtanga Yoga Is An Evolved Fitness System
The is that Ashtanga yoga origins date back several millennia. However, it seems that the scriptural evidence was destroyed by ants. The practice is believed to be invented by Krishnamacharya, the father of modern yoga who blended traditional yoga philosophies and some aspects of Danish gymnasts sharing a practice gym space allotted by the Maharaja of Mysore. 
5. Experiment With Ease Versus Effort
 The Ashtanga yoga practice requires memorization of the sun salutations and then adding asanas to the practice as you progress over time. Your energy rhythms and breath synchronization help in appreciating the subtleties. For someone who is training to become an Ashtanga yoga teacher, it's vital that he or she is able to help students remain focused on their practice. For this purpose, the teacher training should also include altering the theme of the practice. For instance, during your regular teaching classes as part of the Ashtanga yoga TTC, you can ask the students to focus on alignment one day and concentrate on Drishti and breath some other days. The whole idea here is to encourage students to show up regularly and help them experiment within the realms of ease vs efforts. Helping the students practice in a way that they enjoy is a vital aspect of 200 Hour Ashtanga yoga course Mysore.
6. Knowledge Of Resistance Training Can Be Useful
Muscle imbalances can happen especially in the Ashtanga Primary series where there are too many push shoulder exercises. Although this is not a major issue at least in the few initial years of the practice, as a future Ashtanga yoga teacher, you can advice your students to indulge in some resistance training. Resistance bands and pull-up bars are all you would need to help your students to train the rotator cuff and avoid muscle imbalances.
7. Ashtanga Yoga Teacher Training Is More Of An Inside Job
Ashtanga yoga involves practicing the eight limbs of yoga such as meditation, ethics, self-study and others. After accruing the physical gains of flexibility and strength, it's quite possible that your yoga practice might plateau. At this stage, your ability to keep yourself and later your students motivated is probably a better benchmark of whether you are delivering as an Ashtanga yoga practitioner and teacher.
8. Awareness Of Movement Patterns In Daily Life
Ashtanga yoga involves a challenging series of postures. However, when undergoing Ashtanga yoga teacher training, it will help you immensely if you are conscious of your movement patterns in daily life. For instance, whether you are using your hand to hold a child or opening a door or whether you always lead up your right leg on a flight of stairs. Such awareness of movement patterns would help you in easing into and perform even challenging postures with elan. Furthermore, such investments in everyday mindfulness will help you mindfully immerse into your Ashtanga yoga teacher training as well as better guide your students in Ashtanga yoga.
9. The Ashtanga Yoga Practice Is For Everyone
As an individual training to become an Ashtanga yoga teacher, you should have the awareness that although Ashtanga yoga is an intricate style involving a sequence of postures, it is also a self-paced style of yoga. Although done in a group, everyone is performing poses at their own pace. This makes Ashtanga yoga suitable for almost everyone who is looking for a mind-body balance besides gaining strength and flexibility. The idea here is to just keep practicing and you will be forced to modify your poses in event of stress injuries. However, this may open up new realms of alignment patterns not known earlier. As an Ashtanga yoga teacher trainee, such insights can not only bolster your own practice but also help you nudge others towards consistent and effective Ashtanga yoga practice.
The Bottom Line
The Ashtanga yoga teacher training requires dedication and faith in your own abilities. The facts and pointers mentioned in this post can serve as useful insights and further bolster your resolve to become a successful Ashtanga yoga teacher.